News
Knox College News: Knox Psychology Professor's Work Featured in New Video
December 12, 2011
Tim Kasser collaborates with Center for a New American Dream
This article first appeared on the Knox College website on December 12, 2011.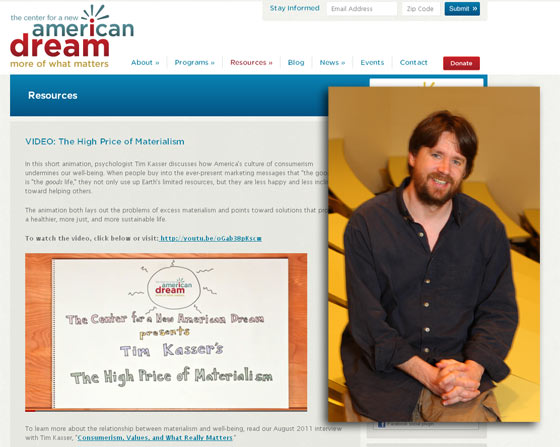 Well-known for his research on materialism, Knox College Professor Tim Kasser has collaborated on a new, 5½-minute animation video that spotlights some of his work.
The video, "The High Price of Materialism," is featured on the web site of the Center for a New American Dream (http://www.newdream.org/resources/high-price-of-materialism). As Kasser narrates, an artist's arm and a sketch pad are shown onscreen while the artist creates drawings that illustrate the psychological concepts being explained by Kasser.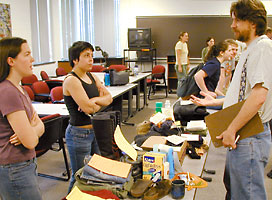 "I hope viewers gain an understanding that despite the messages of consumer society, the research shows that overly focusing one's life around the pursuit of money, image, and status is associated with being less happy, treating others less well, and hurting the environment more. I also hope viewers come to see that they can make changes in their personal lives, and in society, to decrease materialism," said Kasser. (Photo, right, Kasser talks with students about their project, an exhibit on consumerism, in one of his courses).
A psychology professor, Kasser has been on the Knox faculty since 1995. In that time, he has become an internationally recognized expert on materialism, values, and quality of life. (For example, he is mentioned in an article in the December 7, 2011, New York Times -- http://dotearth.blogs.nytimes.com/2011/12/07/naomi-kleins-inconvenient-climate-conclusions/)
Kasser has been a longtime member of the Center for a New American Dream, whose mission is to help "Americans to reduce and shift their consumption to improve quality of life, protect the environment, and promote social justice." After Kasser joined the board about a year ago, the organization's executive director asked whether he'd be interested in working on a "visualization" film about materialism.
"Our thinking behind the animation is that we want to help bring academic research and key themes/ideas to a broader audience," said Wendy Philleo, executive director of the Center for a New American Dream.
"We think Tim's work on the psychology of how consumerism and materialism impact us is important, and we want to use dynamic and creative media to help reach a broader audience who might not be aware of his work or have time to read books or academic articles on the topic," she added.
Kasser applied for -- and received -- a grant funded through an Andrew W. Mellon Foundation award to Knox College to support faculty research, scholarship, and professional development. The grant helped fund the video project.
"I've been studying the issues described in the video for around 20 years now," Kasser said. "I give lots of talks, write scientific articles and book chapters, and speak frequently to the media about these issues, but this visualization video seemed like a new and very different opportunity for getting information about materialism out to people."
The project presented "a fun challenge," he said. It involved deciding "how to say something meaningful" during a video lasting only about five minutes and collaborating with the Center for a New American Dream and an artist to create "compelling visual images."
"I found it really interesting to see how the artist's imagination went to work on visualizing the ideas," Kasser said.
« Back to News